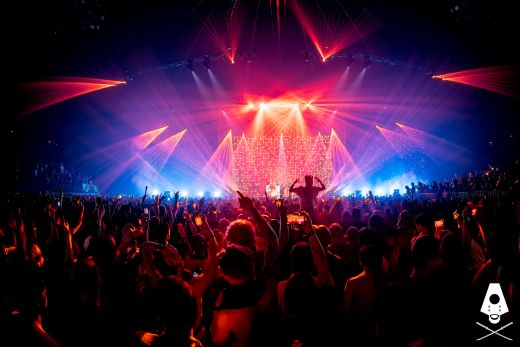 RAMPAGE TOTAL TAKEOVER- HOW DOES IT WORK?
The Biggest Drum&Bass And Dubstep Party In The Universe is taking over Antwerp!! For the first time ever in bass music history, 10 clubs in 1 city in 1 night will be dedicated to drum&bass and dubstep; and 1 ticket allows entrance to all! 10 clubs, each with a BIG line-up, hosted by some of the biggest brands in the world.
The second night we return to Sportpaleis for our biggest show to date - a series of incredible headline acts and the most mindblowing production we've ever presented.
At the same time we give you the opportunity to spend one night at your favorite music style, and the other night with both dubstep and drum&bass mixed up. On march 10th, we fill up 10 clubs in Antwerp with dubstep and drum&bass, and on march 11th, we return to Sportpaleis for the big blowout.

TICKET INFORMATION
Friday March 10th is limited capacity and access will only be available with a combi ticket, for Soldiers that visit both days.

THERE ARE NO VIP TICKETS FACILITIES ON FRIDAY!

WHY IS RAMPAGE NOT 2 DAYS IN SPORTPALEIS?
Times are hard for a lot of us and with this new concept, we are able to bring the price of a ticket down a lot, allowing a lot more of a our Soldiers to come over and join the annual gathering. The event industry is suffering severely as production costs have gone up by 20 to 40%, and we want to make sure we stay providing the most mind-blowing productions in the years to come. At the same time we want to reach out to our Soldiers who are maybe a bit short on cash at the moment and provide a way for them to be a part of the big Weekend anyway.

We are super excited about the Rampage 2023 Weekend and are building the most insane line-up for the clubs and the Sportpaleis night. Some crazy artists have come on board to help build the concept, and some big brands have jumped on it to help spread the word. We'll start revealing all of it very soon. For now, we'd like to thank you for all the support so far and all the amazing vibes in the first post-covid year. We can't wait to see you again in March!!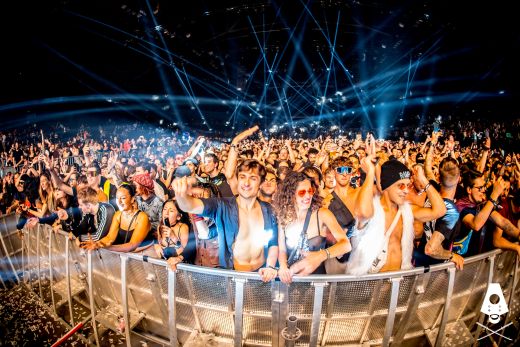 FRIDAY SHOW INFORMATION
Access on Friday only with a valid COMBI ticket!
On march 10th, you can enter each of the 10 clubs with the same ticket. This ticket is only available to Soldiers that are also coming on Saturday. 1 club will be deep drum&bass, 1 club will be mixed bass music including dubstep, basshouse, future bass and more, 1 club will be strictly riddim, 1 club will be 100% drum&bass and 1 club will be mixed dubstep and drum&bass, and so on.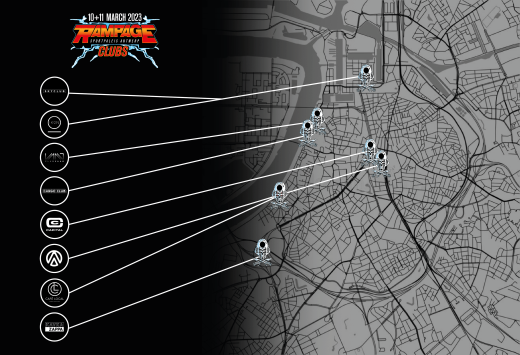 HOW TO GET THERE- FRIDAY SHOW
You can easily travel from one club to another by taxi, electric step or scootie, or bike. Each distance will take you less than 10 mins by taxi or step. If five of you share a taxi, it will cost you approx 2-4€ per person to make the trip. But chances are you will not want to move around and stick to the club you've chosen, and become drenched in the sound. We made sure the ticket price is not higher than what you would otherwise pay for a clubnight like that! On top of that, all five clubs we work with are stunning, with great production, the best sound and all the facilities to make it a night to remember.

HOW DO I KNOW IF THE CLUB IS FULL OR NOT?
Our app will show, in real time, which clubs are full or have a queue, to prevent you to travel to a club only to find out you can't get in. Plus, using the app, you can tell which friends are in which club. We will not sell tickets to full capacity of all the clubs so there will always be room in every club, and every club will have a big enough line-up to draw people in.
Of course this will mean you may have to choose, but that's the same at a festival with 10 stages where you will have conflicting sets. In this case though, the line-ups are different to such an extent, it will be easier to choose. And wherever you end up, it will nothing less than amazing!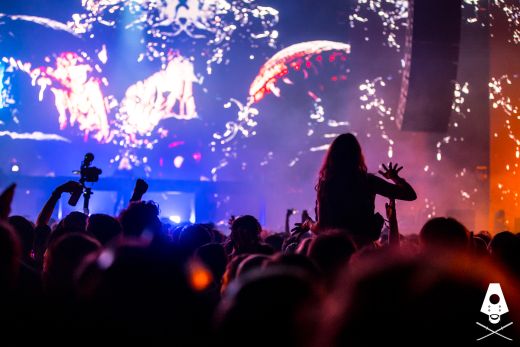 VIP Tickets - SATURDAY ONLY!
Visitors with VIP tickets have to enter through the separate new VIP entrance. Just follow the signs "VIP". At the VIP entrance you will receive a VIP bracelet.

What does a VIP ticket include?
3 level VIP space
Separate new entrance

Lockers included

Separate toilets

VIP bar

Perfect stage view

VIP bracelet
NOTE: NO VIP FACILITIES ON FRIDAY!
Lost & Found - SATURDAY
Lost & found point will be located at the Info point – main entrance at the event between opening hours. You did not find your lost item? Please contact Sportpaleis direct from Monday 13 March on between office hours 10 AM – 6 PM +32 3 400 40 40 or mail   info@sportpaleisgroep.be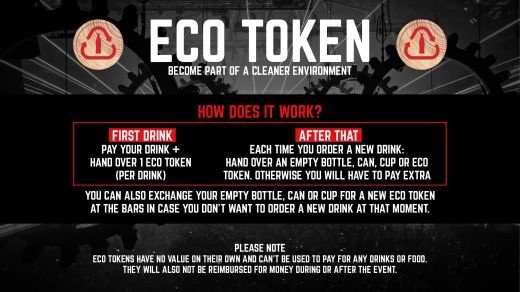 Eco Token - SATURDAY
RAMPAGE INTRODUCES THE ECO TOKEN
Become part of a cleaner environment and make Rampage more sustainable by recycling our plastic bottles and cans together!
We would like to ask everyone to keep the venue clean and to help us recycle as much as possible.
This is why the "Eco Token" system will be introduced at Rampage.
When entering the venue, you will receive 1 free Eco Token.


Doors & Security - SATURDAY
Rampage will take place Friday March 10 2023 from 22:00h till 06:00h & Saturday, March 11, 2023 from 21:00h till 06:00h.
Friday we will be taking over 10 clubs in Antwerp and Saturday we are making a total mayhem in Sportpaleis.
There will be increased security measures and controls by the security staff. Please follow all instructions carefully for your own safety and for a smooth entrance.
We ask you to bring as little unnecessary stuff or bags as possible, but do dress up warmly when cold.
On Saturday - IN=IN, OUT=OUT. The entrance will close at 2 AM.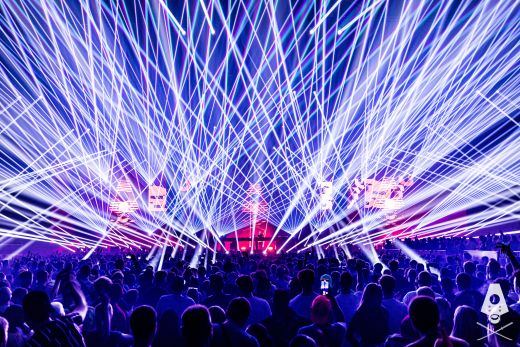 Venue Address
Friday venues- 10 clubs in Antwerp
Saturday venue- Sportpaleis Antwerp


Lockers - SATURDAY
There will be lockers available at the Sportpaleis. We recommend sharing a locker with your friends to save money and space. Rampage cannot be held responsible for any damages or thefts.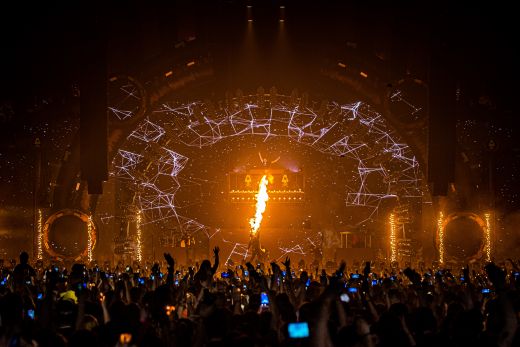 Zero Tolerance and minimum age
There is an absolute Zero Tolerance policy regarding drugs. Visitors will be checked at the entrance. The minimum age is 16 years.
In Sportpaleis on Saturday - IN = IN, OUT = OUT. Make sure to bring your ID, because age will be checked at the entrance. No valid ID = no entry and no refund!
Food stands - SATURDAY
There will be food corners at the Sportpaleis venue.
Cameras
We are very lucky to have a professional media team. They will capture the whole event through video footage and photographs. That is why we strongly recommend to experience and enjoy the event with your own eyes and not through your smartphone.
Official Media Team
There will be an official media team at "Rampage". Our photographers and camera crew will be up and running during the event, so make sure to wear your brightest smile.

The official aftermovie for "RAMPAGE" will be available in a few weeks after the event. The official pictures will be available on our Facebook page and on our website, a few days after the event. Please note: you may have been photographed, but this does not mean that your picture will end up online.
What can I bring to Rampage
The following items are not allowed: bottles of perfume, aerosol deodorant bottles, selfie sticks, food, drinks, any kind of weapons, drugs, flagpoles, football flags/any signs of racism or hate.
Merchandise - SATURDAY
There will be merchandise available during "RAMPAGE". You can find the merchandise stand in the main entrance Sportpaleis. Merchandise is also available online. Go to our webshop for more info.
How to get there - Bike - SATURDAY
There is a bike park in front of the Lotto Arena – 100m on the left hand-side of the main entrance.
How to get there - Car Parking - SATURDAY
For detailed parking information,
Please note that Antwerp is a 'Low Emission Zone', which means that old cars are not welcome in the city. To read more about this and check if your car is allowed
How to get there - Park & Ride - SATURDAY
All information concerning the Park & Ride parkings.
How to get there - Public Transport "De Lijn" Antwerp - SATURDAY
All persons who have purchased a ticket for this event, will be able to travel for free ONLY ON SATURDAY EVENT DAY within Antwerp with 'De Lijn' – this includes all travel with public busses 'De Lijn' and metro/trams.
During the night on SATURDAY EVENT DAY there will be connections from Sportpaleis to the Park & Ride-parkings and the centre of Antwerp. The first tram (number 3) in the morning, direction Merksem/Antwerp, will be available from 05:30h. Plan your trip by checking the button below.
How to get there - Airplane - SATUDAY
How to get there - Thalys - SATURDAY
Take the THALYS train from Paris France, or Amsterdam, The Netherlands. There is a stop at Central station Antwerp, where you can take Tram 3 ON SATURDAY EVENT DAY to the Sportpaleis. Exit "SPORT".